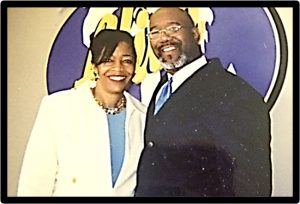 Elder Thom and Sister (Minister in Training) Jackie Woods
As a couple, Elder Thom and MIT Jackie serve as leaders over the Visitors and New Members Ministry, and Elder Thom over the Men of Integrity and Triumph.   You can reach Elder Thom and MIT Jackie via phone at (540) 265-7006 or Elder Thom via email at thom_woods@yahoo.com or MIT Jackie at prayzetyme@yahoo.com.
 Visitors and New Members link those who visit JLAL and subsequently join the Ministry with the opportunity to learn about the church beliefs and standards for becoming involved and fruitful Disciples of Christ and church members!!! We have New Members and Ready to Serve classes that outline what the Word of God asks of us as Disciples of Christ. Visitors are given a personal touch and followed up with regularly to ensure every effort is made to show the love of God and willingness to welcome them regardless of their past, present or future issues.
The Men's Ministry is designed to engage men in Fellowship with Christ Jesus and other men to grow as men of God who are ready, willing and able to serve as Kingdom of God citizens, to stand apart from worldly expectations and realities, and to be lights to a generation flooded with darkness. This is accomplished by mentoring, fellowship, Bible studies, prayer, discussion groups, retreats, etc. 
Elder Thom and MIT Jackie seek first the Kingdom of God and His Righteousness and lean and depend on the indwelling Holy Spirit and rightly dividing the Word of God to accomplish HIS Will. Amen.
____________________________________________________________________________________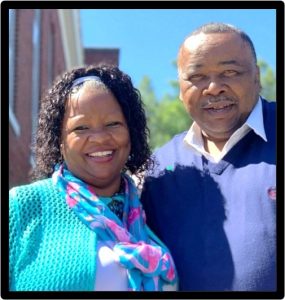 Evangelist Joann Menefee. 
Marriage Ministry –  The scripture theme for this ministry is Ephesians 4:2-3.  Love and peace are shared in the Marriage Ministry fellowship. We share the Word of God through love. A lot of laughter is experienced during our Marriage Fellowships along with plenty of good food. The JLAL Marriage Fellowship has hosted Couples Date Night Out, Ice Cream Sundae, and Couples Paint Night, just to name a few. The engaged and married couples come and enjoy the love of Christ and one another. It is my pleasure to serve such an awesome group of people.
Usher Ministry – This is a Ministry that shows the love of God as we meet and serve you in the parking lot, through the sanctuary doors, and throughout the entire service as needed.  Psalms 84:10 states, I would rather be a doorkeeper in the house of the Lord.  I gain blessings from serving on this Ministry. 
____________________________________________________________________________________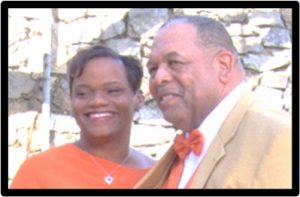 Elder Kenneth and Minister Tonya Norman
Elder Ken and Min. Tonya have been involved in ministry for over 30 years. They currently serve together on the Elders Council at Jesus Is Lord ~ Assembly of Love under the leadership of Bishop Steven and Elder LaVerne Norman. 
Min. Tonya leads the JLAL Choir Ministry which ministers song from a variety of music genre including contemporary, traditional, and gospel. The main goal of the choir is to sing under the anointing of the Holy Spirit in order that people are motivated to a relationship with Jesus Christ through salvation, rededication, and discipleship. 
Elder Ken leads the Prayer Ministry, and its primary goal is to teach people how to pray and to help instill a passion for prayer in the life of people. The Prayer Ministry prays corporately on Thursday evenings via conference call from 6:30 pm until 7:00 pm. Various topics are prayed and various individual prayer needs are addressed as well. Prayer is also held Sunday morning before worship service begins from 10:25 am to 10:30 am with church leadership and 10:50 am to 11:00 am with the congregation. All prayer sessions are Word based and fervently executed. 
Elder Ken also serves as Elder over the Security and Choir Ministries. The Security Ministry serves to keep the church safe. The Security Ministry consists of church members who are physically capable, qualified to serve and willing to respond to the security needs of the church in the event of an incident or security crisis. The Security Ministry is available for every event held at the church facility and events off premises when required.
The Normans enjoy having the opportunity to assist in the spiritual growth and encouragement of others. They love to see the development within the lives of believers in every area of life. Their prayer is that their service will bring increase to the Body of Christ, the ministry of JLAL and be an asset to Bishop and Elder Norman.