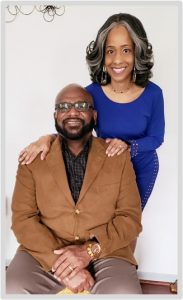 Bishop Steven A. Norman along with his lovely wife Elder LaVerne are the founders of Jesus Is Lord ~ Assembly of Love in Roanoke, VA. With the support of his wife, Bishop Norman is faithfully carrying out the call to "Save the Lost and Transform the Saved." He knows this can only be done by equipping men and women to become skillful in living according to the principles of the Kingdom of God, after accepting Jesus Christ as their Lord and Savior.
Born and raised in Moneta, VA., Bishop Norman was raised in church and taught to obey traditional values. After spending several years in the military, Bishop Norman found himself facing many troubling situations that lead him into a life of drugs and immoral living. Then in March 1994, Pastor Norman was miraculously delivered from crack cocaine and was filled with God's love. This lead Bishop Norman back to Christ and he began to saturate himself in the Word. In 1999, Bishop Norman heard God's voice calling him to the pastoral ministry. With obedience to the call, the first service Jesus Is Lord ~ Assembly of Love was held with seven people in attendance.
Under the leadership of Bishop Norman and Elder LaVerne, the ministry continues to grow throughout Roanoke, Virginia.  Bishop Norman furthered his education at Liberty University in Biblical studies. Bishop Norman's quest for excellence can be seen in his desire to please God in spirit, soul and body. His continuous quest to see souls saved is a key component in the growth of this ministry. His committed leaders, members and friends are continuously blessed by his preaching, teaching, wisdom and anointing.
On March 6, 2016, Steven Norman was consecrated to the office of Bishop. The Jesus Is Lord church family, blessed friends and honored guests had the glorious opportunity to witness him being elevated to this ordain office.